AviSys Palm* PDA Data Entry Support
Another AviSys Exclusive!!!!
With the new Palm Support facility, and the powerful, new, bright, full-color Palm devices,
we are now enthusiastically recommending using a Palm PDA for data entry in the field!

NOTE: AviSys does not support Palm "Emulators," such as Style Tap, which attempt to run Palm OS applications on Windows Mobile devices. The environment they create is entirely different from a real Palm OS environment.

Palm Support runs on Windows XP & Vista 32 bit (not 64 bit -- in fact Palm itself does not run on 64 bit.)
AviSys provides support for data entry using your Palm Personal Digital Assistant.
Install on your Palm device any checklist you have in AviSys - world, North America, any state or province, any nation, or any custom checklist, such as a NWR, whether provided by AviSys or created by you. The number of installed checklists is limited only by the Palm memory, and that means many dozens.
The checklist on your Palm can also automatically include markers to indicate if you've seen the species in the checklist geography (''), or anywhere else ('). In addition, if you have the nation checklist add-on, the checklist can include markers to indicate endemic species for a nation.
Install on your Palm device any list of AviSys Places appropriate for the outings you are planning. Each installed checklist will have its own unique list of Places.
Record sighting data on your Palm device in the field. The data can include the species, date, Place (from the Place list or manually entered) and comment, including quantity. The date, Place, and/or comment can be "fixed," so you can just check off the birds you see.
Automatically transfer the sighting data from your Palm device into AviSys. During the transfer, the data is certified by AviSys for integrity, and if problems are found, you have the opportunity to correct them.
The Palm operations are fully integrated with the AviSys 6 software.
Palm Operations support can be ordered on this web site. Click Here
Palm support requires AviSys Version 6.
If you are a current user of AviSys Palm Support, Click Here for a free update to JFile 5 and the new support. (Also, update to 5.00F, above, or order Version 6 here if you are still using Version 4.58.)
The AviSys Palm Support price is $44.95, plus $2.00 S&H, which includes:
the $24.95 JFile 5.65 product, the most popular database for Palm
registration of JFile 5 in your name
the AviSys Palm Support software
a bound, fully illustrated AviSys Palm Support User's Guide
(If you already have JFile 5, the price is $25.00 plus $3.00 S&H)
The Palm device is a separate purchase.
Genuine Palm devices start at $99 !!!!! Look at www.palmone.com
See a user's comments at the end of this page.
How AviSys Palm Support Works
A checklist is prepared with the standard AviSys Report | Checklist facility, where you also add as many of the special AviSys geographic Places as you will need on the planned trip. The checklist is then converted to a JFile 5 database and installed on your Palm device by the Palm Operations facility, shown below. As many checklists as you need can be installed on your Palm in preparation for a trip. You can use the Replicate button to create multiple copies of the same checklist, such as DELAWAR1, DELAWAR2, etc. (Note that the simple 1,2,3... instruction window is built right into the dialog. It would be rare to have to use any of the buttons except "Install..." and Import...")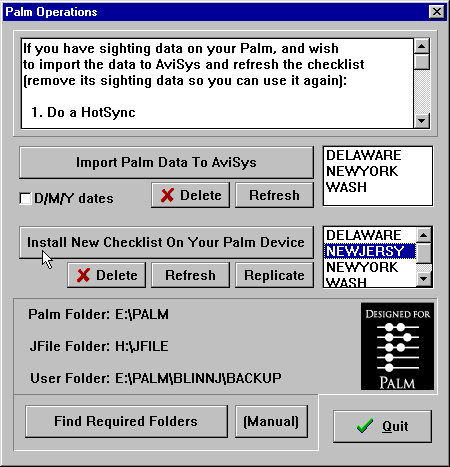 The database on your Palm looks like this:
Bigger than life-size! The real Palm device is only 3" wide x 4.5" high by 9/16" thick. It will fit in a shirt pocket. Look at this bright, gorgeous, full color screen and the beautiful Palm device construction.

For illustration purposes, we are using a large font. With smaller fonts, you can have up to 19 lines per screen.

The checklist has three columns of checkboxes, one column for each of three outings, or parts of an outing -- a checklist is really three checklists.

On each outing, you get to the birds with Band Codes, Find, or scrolling, and just check off the birds you saw in the appropriate column by tapping the checkboxes.

The first three INFO records hold the Date, Place and Comment information that is automatically applied to the sighting records for the associated column. See below. . .

For any individual sighting, you can override the automatic information and record a unique Date, Place and/or Comment. For multiple records of the same species on an outing, just duplicate the species record.

More than three outings? Install more checklists!

This is a view of one of the individual records.

Normally, you don't need to come here -- all this stuff is set up with the INFO records and you are just checking off birds. But for a unique individual sighting, or for a unique comment, you can enter data here.

Note that there are places to record a Comment, Date, and Place for each of the three possible checkmark columns in the list, as shown above. For example, Comment 2 is for the sighting recorded with the second checkmark column.

The dates are entered by a special graphical calendar, and the Places are selected from a popup list of the AviSys Places you included with the checklist -- a popup example is shown here. (Note that, during an outing, you can add Places you may have forgotten when you first prepared the checklist.)
After your trip, you just do a Palm HotSync*, call up the Palm Operations dialog (shown above), select the checklist, and click "Import Palm Data To AviSys." AviSys captures the data from your Palm, certifies that all the records are good, and loads the records in AviSys. The checklist on your Palm is refreshed (cleared of sighting data) so you can use it again. If, during the import, AviSys finds problems with any records, you are informed of the details and can fix them before the import proceeds. After the import, the sighting records are displayed in the Journal so you can stream them to your birding partner's data set if you wish.
Super Special Palm Features
We have always recognized the importance of facilities to get to the bird easily in a checklist. So, for Palm support, we have included Band Codes. To get to a bird, you can just "Graffiti" or tap a four letter band code, and the list jumps right to the bird. (In the (15%) case of a "collision," a duplicate code, you do a "Next" operation.) Band Codes are very easy to learn (just five simple, intuitive rules), and can be used with world-wide, as well as North America, birds. (If you don't, yet, use a Palm -- "Graffiti" is a slick way you can write on a Palm device.)In addition to Band Code support, you can do a Find on a fragment of the species name, Latin Genus name, or Latin species name. And, of course, you can scroll through the list.This comprehensive set of features, and the depth and power of data entry implementation, make this Palm support facility another AviSys Exclusive!
Why Not Pocket PC (IPAQ)??
Here's why.
In private hands (not devices supplied by corporation IT shops), the Palm leads the market by a large margin.
Pocket PC/Windows Mobile devices are very expensive, hundreds of dollars more than Palm devices.
If we examine those people who have Pocket PCs, we find that the devices have a lot of business applications installed, many of them supplied by employers, including wireless applications.
The combination of the high cost of Windows Mobile devices, the fact that they are likely to be owned by a company rather than the user and are likely to contain business data and applications, suggests that many people (and their bosses) would prefer to not take their Windows Mobile devices out in field conditions.
Further, Windows Mobile devices have limited battery life, while Palm devices have a very long battery life. For multi-day trips, the requirement to recharge the battery becomes an issue.
Windows Mobile devices tend to be bulky and heavy. Palm devices are slim and light weight -- ideal for field use.
Even if you use a Windows Mobile device regularly, most likely because it's provided by your company's IT shop, wouldn't you prefer to take a different device, better suited to the application, in the field?
You can get a beautiful Palm device for $99 !!!!
From a regular column by Stephen Wildstrom, Technology and You, in Business Week magazine, July 14, 2003:
"I've never really gotten comfortable with the Microsoft Pocket PC software that ran on them (iPAQs). It has always seemed to try too hard to be a mini-Windows, in the process sacrificing the simplicity that remains the hallmark of Palm-based handhelds. . . . Unfortunately, the software, while improved in many ways, still seems designed more for corporate information-technology professionals than for ordinary users."
From a regular column by Dan Gillmor, Technology Columnist, San Jose Mercury News, in Computerworld, January 12, 2004:
"Mobile phone makers loaned me several advanced devices to test in 2003, and I come into the new year with every intention of buying a Handspring Treo 600 [Palm-based device], the first device that combines phone, personal organizer, and data communuications [and, we might add, AviSys] in a wonderfully integrated package. Not since my first portable computer has a device made such a difference to my out-of-office existence."
The enduring, and endearing, advantage of a Palm handheld is that information is only a tap or two away versus the Pocket-PC/iPAQ-style experience of complex dialog boxes and multiple, confusing steps to accomplish a simple task -- typical Microsoft techno-bureaucracy imposed on the unsuspecting user.
From a January 5, 2006 article in the New York Times by David Pogue -- "A Marriage Not Made In Heaven"
"Palm's new Treo 700W cellphone-organizer runs on software from Microsoft.
"The first question is: why? The answer is corporate sales . . . 'Nobody ever got fired for buying Microsoft.'
"The second question is: how? From the beginning, Palm's and Microsoft's design philosophies were miles apart. Microsoft lived for long lists of features and 65 different ways to get at them, while Palm strove for simplicity and directness . . . How on earth can these two approaches be reconciled?
"As it turns out, not very easily. The Treo 700W ($400 with a two-year Verizon commitment) is a Frankensteinian mishmash. Some of its features are so inspired and well executed, you can't help grinning, while others are so clumsy, you smack your forehead."
" . . . it's a shame that Microsoft's convoluted software has produced such an awkward marriage with the hardware. Longtime Treo fans, in particular, will be absolutely baffled by the new software layout."
From a July 10, 2006 review of the Motorola Q [Microsoft Windows Mobile] in Fortune magazine:
". . . Though the Q is the more stylish of the two, in my opinion the Palm Treo 700p [which runs Palm OS] is the better smartphone and worth the extra money.
Anyone who has used the Palm operating system will probably be dismayed by the ungainliness of Windows Mobile. It's just easier to accomplish common tasks on the Palm Treo, in part because the Treo has a touch screen while the Q does not, relying instead on hardware buttons and a scroll wheel.
Similar frustrations arise when dealing with Microsoft Office files, which are more difficult to open and edit on the Q than on the Palm Treo."
---
Palm OS devices lead in all markets except the large enterprise installations where in-house developed and large-enterprise-related vertical applications are required.
For birding data entry, Palm is the best fit to the task, the market, and the pocketbook -- and is by far the best choice for usability. Even if you use a Pocket PC in your employment, getting a Palm for birding data entry is an excellent investment.
---
And now there is the brilliant Palm Z22 for $99!

One user's comments:

"I thought I would give you some feedback after having used the new Palm data entry feature of AviSys on a few multi-day trips (including a week in Florida over Christmas). You have definitely jumped a generation ahead of your competitors in one step with this new capability. The problem I have always had with managing my database is that I had to keep my trip list(s) on a conventional piece of paper and then re-enter all the records when I returned home. This wasn't a big deal for a one day trip, but for a multi-day trip it could be a major pain in the neck (particularly now that I have been keeping track of county lists).

"Several times over the past few years, I have misplaced my field checklists for major trips because I had procrastinated the tedium of data entry and the lists disappeared into my "piles" at home. This has all changed with the Palm data entry! In addition to the data entry capability, simply having checklists easily available on the Palm is useful. I always have an up-to-date ABA and California checklist loaded (with the ' and " sighting markers) so that I can see at a glance if I should consider a "chase" when something interesting has been reported to the RBA. After seeing the Palm checklists on a trip last weekend, one of my friends proclaimed that she finally has a reason to buy a Palm PDA!

"Great work as usual,"

Scott J. Hein, Ph.D.
Diablo Analytical, Inc.
1110 Burnett Ave., Ste. C
Concord, CA 94520
---
Note: If you have Windows Vista, be sure to install the latest Palm OS Desktop software.
AviSys Palm Operations support can be ordered on this web site for $44.95 Click Here
Palm Support requires AviSys Version 6
---
---
* "Palm" and "Hotsync" are trademarks of PalmOne.