The AviSys Trip Log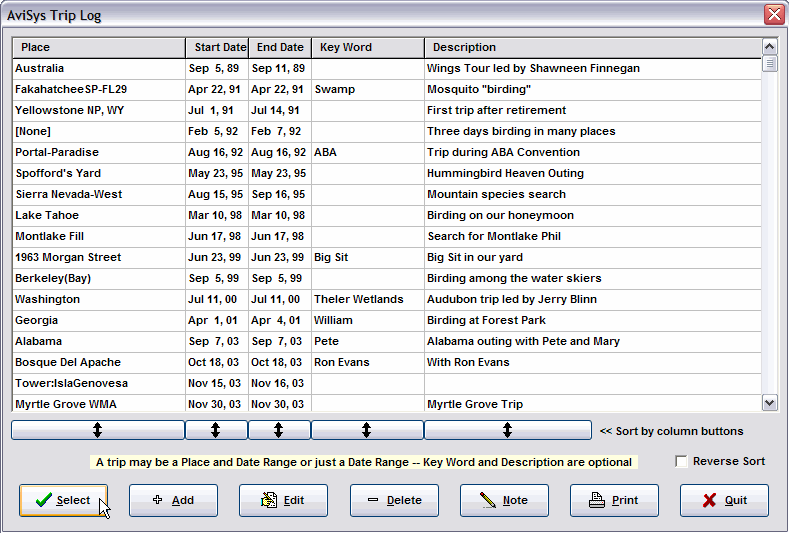 At the AviSys main screen, click the Trips main menu item. This Trip Log window will hold a log of an unlimited number of the outings and trips you feel are important enough that you will want to review them, run reports based on them, or list their records. Unlike trip-oriented software, where you must create a trip every time you record a sighting, even a Rock Dove in your back yard, in AviSys you determine which outings are worth trip log entries. (Note a subtle difference; Stored Reports are best used for things like year lists. The Trip Log facility is best for trips and outings.)
Creating a Trip Record at Any Time
To record a trip for future use, you come to this window where you can record trips of one day or multiple days, with optional Place, Key Word and Description entries. You can add a Field Note to any trip record (@ next to Description). Note that you don't have to include a Place in a trip record. You can use just a range of dates, and any reports and listings using that trip record will include all records on those dates, regardless of the location.
Creating a Trip Record During Data Entry
If you come here while entering records, and have Place and/or Date "Fixed," a trip record is automatically set up with those elements entered. You can add a Key Word and Description if you desire, and you can extend the date range if the trip record is really for a multiple-day trip.
Invoking a Trip Record in Reports and Listings
The Sighting Record Listing Criteria Dialog and the Report Criteria Dialog have Trips buttons. While preparing a listing or report, you can use the Trip button to go to the Trip Log, select a Trip Record, and the Date, Place, and Key Word, if present, will be automatically posted in the report or listing dialog criteria.
You can edit any existing trips, and you can sort (or reverse sort) the Trip Log on any of the columns by using the sort button at the bottom of each column. The entire Trip Log can be printed for reference.